This site is no longer being updated. The Vega Science Trust closed in March 2012, and this site has been left here for reference purposes.
You are here >
Is There Anybody Out There?
Is there life out there? Either on other worlds, deep space, or even deep in our oceans that we haven`t encountered yet? Our panel of experts discusses the possibilities, and if there is life, what it may be like.

A BBC/OU/Vega video.
Chaired by Colin Blakemore, the panel consists of Barrie Jones, Julian Hiscox, Monica Grady, and Bob Lambourne.
Links To Other Information: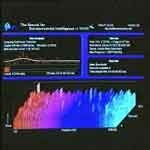 Useful Links:
Please Read
add us to your website