This site is no longer being updated. The Vega Science Trust closed in March 2012, and this site has been left here for reference purposes.
You are here >
MRI: A Window on the Human Body
Laurie Hall video recorded in 1998.
Nuclear magnetic resonance imaging (MRI) provides a powerful means of not only distinguishing between different types of tissue but also of identifying whether the tissues are normal or diseased.
"..a fascinating insight into the field of MRI. He has managed to explain this complex subject in a clear and accessible way ... this lecture summarises many of the state-of-the-art techniques that are being developed in Cambridge and other research centres within the UK. Excellent viewing!"
Dr Stephen Gandy
MRI Research Physicist, Ninewells Hospital, Dundee
Links To Other Information:
The Whole Brain Atlas
Interactive atlas using MRI images
Herchel Smith Laboratory
for Medicinal Chemistry, Cambridge
Order Video
On VHS from Vega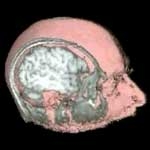 Useful Links:
Please Read
add us to your website