This site is no longer being updated. The Vega Science Trust closed in March 2012, and this site has been left here for reference purposes.
You are here >
The Epidemic of Mad Cow Disease (BSE) in the UK
Roy Anderson video recorded in 1997.
This Discourse discusses the disturbing events of the then (1997) recent history of the BSE epidemic and some of the crucial mistakes which contributed to the epidemic are highlighted.
"The programme... gives a refreshingly rounded view of the science of mad cow disease"
Roger Highfield on "The Epidemic of Mad Cow Disease"
Daily Telegraph (1998)
Links To Other Information:
1997 Nobel Prize
in Physiology / Medicine
The BSE Inquiry
Homepage with report
Review
from the Daily Telegraph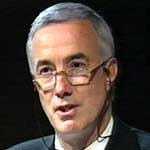 Useful Links:
Please Read
add us to your website