This site is no longer being updated. The Vega Science Trust closed in March 2012, and this site has been left here for reference purposes.
You are here >
Martinus J.F. Veltman - Science Video Interview
Video interview recorded in 2004. Martinus J.F. Veltman, the Netherlands shared the Nobel Prize in Physics in 1999 with Gerardus `t Hooft the Netherlands "for elucidating the quantum structure of electroweak interactions in physics"
Not all areas of Holland were very advanced when Veltman was a boy, but his father was a primary school teacher and had a great respect for science and technology. His mother was born to parents who ran a café and she was very practical.
Veltman tells a story of how, when he was a boy of 13 or 14, he played with an artillery shell and miraculously survived! At that time it was unusual to go to university in his home area but his teacher persuaded his parents to send him. He found it very hard to adjust to the environment for at least a year. Veltman talks about his work on quantum field theory in depth and goes on to discuss the problems of rationality and religion.
Links To Other Information: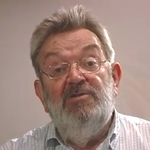 Useful Links:
Please Read
add us to your website