This site is no longer being updated. The Vega Science Trust closed in March 2012, and this site has been left here for reference purposes.
You are here >
Richard Friend Interview 2
Second part of an Interview with Prof. Sir Richard Friend. Interviewed by Harry Kroto.
In this video interview Richard Friend discusses his childhood, education, the importance of fixing things, views on science and what science is, sustainability and resulting scientific challenges, religion and science, the research environment, the empowerment of having a scientific education, what makes him angry and whether or not science should be useful!
Links To Other Information: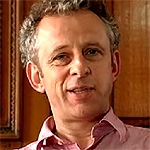 Useful Links:
Please Read
add us to your website