This site is no longer being updated. The Vega Science Trust closed in March 2012, and this site has been left here for reference purposes.
You are here >
The Quest for The Higgs
The Quest for the Higgs - Runner up: Best use of Animation and Best Short Documentary for the 2002 International Festival of Cinema and Technology.
Links To Other Information: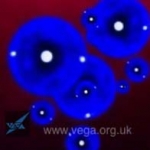 Useful Links:
Please Read
add us to your website