This site is no longer being updated. The Vega Science Trust closed in March 2012, and this site has been left here for reference purposes.
You are here >
Voyage to the Bottom of the Deep Deep Sea
A BBC/OU/Vega video. We are only just developing the technology necessary to probe deep beneath our oceans. Contrary to earlier expectations, we are finding whole new ecosystems of life. Are the ocean depths the next new frontier?
Over half the surface of the earth is covered by water more than 3km deep. What exotic creatures might be living there?

Chaired by Colin Blakemore, the panel consists of Chris German, Kate Humble, Tony Rice, and panel regular, oceanographer Jacqui McGlade.
Links To Other Information:
DEEPSEA
Deep Sea Research News Group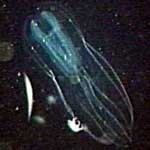 Useful Links:
Please Read
add us to your website